CompuFly v2.0 USBtoPPM Converter
$5563

$55.63
Tax included.
---
---
CompuFly is generating PPM stream like your RC Transmitter for flying with computer joystick/mouse/etc
Features:
Channel resolution v2.0:       2048 (11bit)

Current version

Channel resolution v1.0:       1024 (10bit)

Old version

Max Channel Count:      10 channel
PPM Mode:                   Positive/Negative PPM selectable
Cable Length:               120cm
Software:                      GNU licensed OpenSource Software for everyone
Control Application with full source code under GNU license:
Software Download: CompuFly.zip version 1.35
Windows XP/Vista/7  USB drivers: CP210x_VCP_Win_XP_S2K3.zip
DirectX Joystick Driver Information for Windows Vista and Windows 7 users !!!
Microsoft removed the DirectX Joystick Driver DLL(dx8vb.dll) from the windows core on these versions. If you using these versions you have to register the driver DLL by yourself. 
Registering DX8VB.DLL
- Copy dx8vb.dll file from our compufly.zip file to SysWOW64 folder of windows
- Run the command prompt as "run as administrator"
- go to SysWOW64 folder on the command prompt (type "cd c:windowssyswow64")
- Type "regsvr32 dx8vb.dll"
- Press enter and see the "succeeded" message.
3rd Party Softwares
You can find compatible 3rd party Windows software here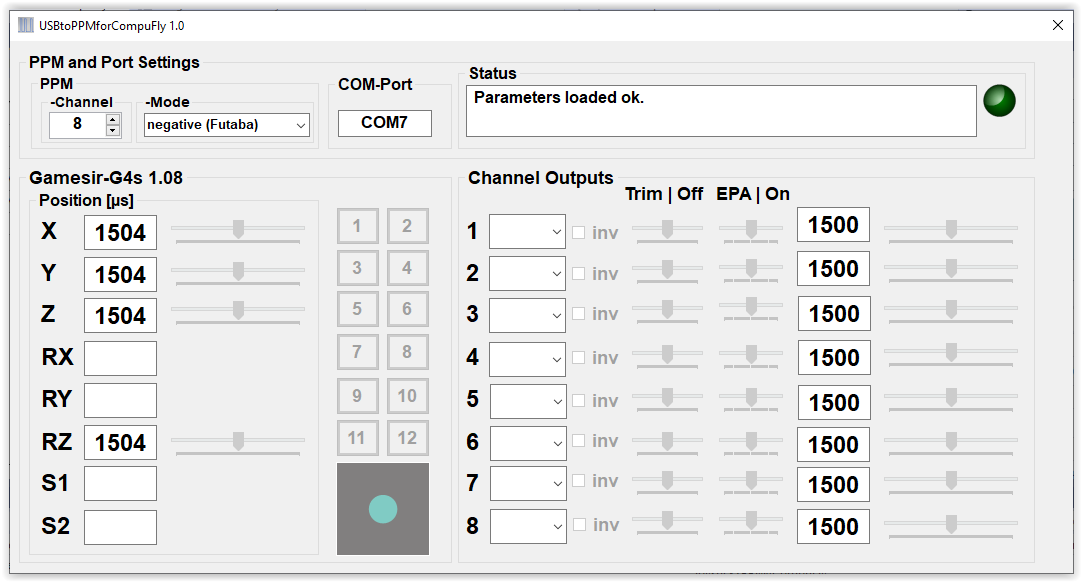 And the Java version here